GARDEN ROUTE | HESSEQUA | KAROO NEWS - Since Saturday 10 July up until Tuesday 14 July, the Garden Route recorded 17 Covid-19 deaths. Six of these were in George and six in Oudtshoorn, one in Hessequa, two in Mossel Bay and two in Bitou.
Six of these were in George.
Western Cape Health district spokesperson Nadia Ferreira said as of today, the total number of deaths recorded in the district stands at 64.
The total number of deaths per towns in the district as of 14 July is:
George: 30
Oudtshoorn: 8
Knysna: 8
Mossel Bay: 9
Bitou: 7
Hessequa: 2
Ferreira said the number of patients hospitalised in private and public hospitals in the district stands at 80 with 26 patients in critical care.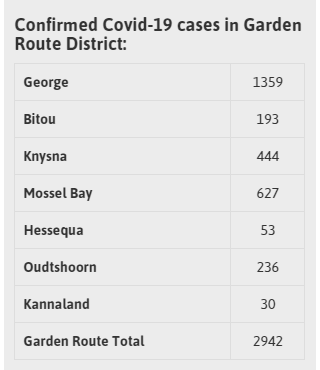 Dear reader, As your local news provider, we have the duty of keeping you factually informed on Covid-19 developments. As you may have noticed, mis- and disinformation (also known as "fake news") is circulating online. Group Editors (publications and online platforms) is determined to filter through the masses of information doing the rounds and to separate truth from untruth in order to keep you adequately informed. Local newsrooms follow a strict pre-publication fact-checking protocol. A national task team has been established to assist in bringing you credible news reports on Covid-19.
'We bring you the latest Garden Route, Hessequa, Karoo news'